It works because we are igniting and encouraging the inherent goodness in humanity and creating valuable and easy ways for people to engage and spread kindness in the community.  
We know, for certain, that every single person or organization has something good to share. We have discovered that there is MORE THAN ENOUGH goodness and kindness to make a transformative positive impact in the region and in the general well-being and morale of people, businesses, and organizations. 
Our programs and partnerships are tapping into what already exists within us and our organizations, while building and implementing a regional infrastructure and collaborative network that will optimize that good will for the community.
We are facilitating and imagining community-changing kind acts in the Merrimack Valley.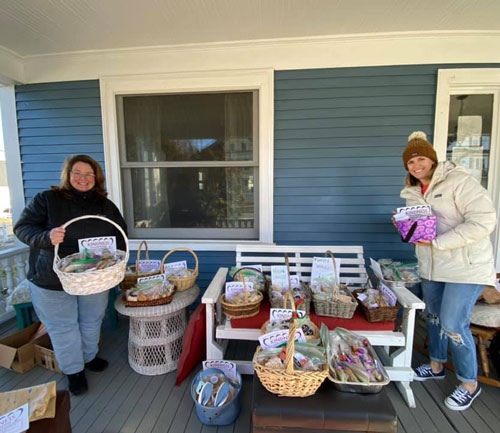 KINDNESS REQUEST GENERATION
A person, business, nonprofit, school, agency, public official, or municipality contacts us with a need in the community. The need may be for a specific tangible item or resource, or it could be for a general act of kindness or show of appreciation.
The need is shared within the 10,000-strong TKC community through word of mouth,the TKC  facebook group, or through our business and nonprofit partners.
Acts of kindness come in many forms and it means something different to every person and every situation. Kindness can mean a critical resource someone needs to survive, or it can mean a simple message or gift that speaks to the recipient's heart in the exact way they need. TKC kindness support may come as a basket of goodies, a meal or box of baked goods, a custom care package, an act of service,  meal train, or even something that is entirely unique to the individual receiving it.
The lifecycle of one act of kindness – "My Favorite Shirt"
Hover over each circle to view the lifecycle. 
Young Boy #1 grows out of his favorite shirt (he's sad)
Mom suggests donating it to TKC so another child could enjoy it (he's happier)
TKC member picks up the bag of clothes and delivers to our member nonprofit (Community Giving Tree)
CGT packages the shirt up with other needed items for a family who becomes homeless due to apartment fire (he's happy)
Young Boy #2 tries on the shirt, it's so comfortable and warm (he's happier)
The shirt becomes "his favorite" (he's happiest)